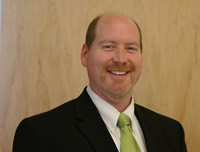 Enseva, a data colocation and cloud solutions leader since 2012, announced today the addition of Daniel Abbott, Cloud Systems Engineer, to the firm.
Abbott joins Enseva from Thompson Trucking where he last served as their IT Director working with numerous platforms and technologies including, but not limited to HyperV, SQL, VNC, ShoreTel, Cisco and Citrix.
A seasoned industry veteran with over 20 years of professional experience, Abbott has previously held senior leadership roles with Kleffmann North American, 2nd Story Software, RuffaloCODY and McLeodUSA. He holds a Bachelors degree in Computer Science from University of Iowa, and an Associate of Arts degree from Clinton Community College.
"I am thrilled to have joined the impressive team at Enseva. Information technology is core to Enseva's business and we strive to leverage the best technology tools in order to provide our clients with the most effective outcomes," said Daniel Abbott, cloud systems engineer at Enseva. "I have the experience, perspective and vision to optimize our client's IT systems and I'm looking forward to staying on the leading edge with Enseva."
Information technology is core to Enseva's business and the search for the best technology tools continue to be at the forefront of Enseva's mission. "Daniel is a consummate professional and an outstanding addition to our leadership team," said owner and CTO Chris Sevey. "Daniel's extensive leadership skills and IT experience provides us with a new dimension in solving client challenges with personalized solutions."
Abbott specializes in various platforms of IT and the services that technology provides. With so many companies moving to the cloud, it's important that cloud systems engineers understand the language of the business. His extensive background in different technologies and platforms provide the expertise Enseva needs as the cloud market continues to grow.
ABOUT ENSEVA
Enseva is a next-generation datacenter and cloud solutions provider offering a suite of services architected at simplifying IT management. We offer colocation, cloud resources, disaster recovery and managed services meeting all customer needs with unique and innovative technologies that are fast, flexible, powerful and reliable. Enseva provides exceptional customer service for customers ranging from financial, health, and retail sectors to government and education. For more information, visit www.enseva.com or call 888-851-6281.