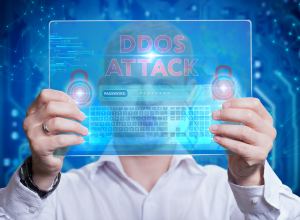 In 2017, there will be no bigger concern for datacenter managers and security directors than protection from cyber-attacks, including DDoS, otherwise known as Distributed Denial of Service.
A DDoS attack is an attempt to make an online service unavailable by overwhelming it with traffic from multiple sources. Those responsible for a DDoS attacks target a wide variety of resources, including banks, news websites, government websites, and other important services. Security breaches became a common theme throughout the 2016 elections.
No company is really safe from DDoS. These threats can cause significant revenue loss, damage customer relationships, and destroy product brand. As attacks continue to grow in size, duration, and frequency, it is vital that businesses take the appropriate safety measures to assure business as usual.
According to the 2015-2016 Global Application and Network Security Report, 2016 saw an increase in attacks against large hosting companies, some targeting end customers and some targeting the hosting companies themselves. While motivations for attacks vary, it appears the primary objective is to cause damage to company services.
When asked if their company would be prepared to fight cyber-attacks, the security report stated that only about half of companies responding said they felt prepared to fight a DDoS attack. Almost half of those responding also said they had the resources to fight a DDoS attack for about a day. Only 33% of the 67 companies surveyed said they could fight an attack around the clock.
When asked about primary concerns if they become a victim of a DDoS attack, about 26% of the companies surveyed said they would be concerned about reputation, and 22% are concerned about service outage and limited availability.
In the meantime, third-party data center providers such as Enseva work around the clock to prepare and prevent DDoS attacks. They are ready to take counter measures against attackers such as those responsible for last month's attacks that gained national attention. In October, popular websites such as Netflix and Twitter went down due to a cyber-attack.
The outage earned attention from the FBI, which continues to investigate the attacks.
While authorities investigate the legalities of the attacks, data centers and security directors will continue to focus on how to protect and prevent companies from such attacks in 2017 and beyond. Because DDoS attacks can happen using any connected device, everything from government secrets, to telecommunications, transportation and the power grid can be disrupted. If the attacker can find an open port, communication can be established with any network or server.
"It's become a major concern because of how easy (attackers) are taking down the services of large organizations such as Netflix, an organization with a lot of resources," Chris Sevey, founder and CEO of Enseva. "It becomes difficult for network engineers to counter the attack because there are thousands of computers involved from all over the world."
Learn more about Enseva's standards, or contact us for a consultation at www.enseva.com.