When it comes to creating a state-of-the-art dataccenter design, keeping up with technology advancement and the Internet of Everything requires a major focus on key elements such as reliability, time, space, experience and sustainability.
Reliability
Reliability is the key element to assure an efficient datacenter. A datacenter must be capable of delivering clients uninterrupted services 99.999% of the time. To achieve high standards of reliability, datacenter architects must consider the following factors:
Power – Power delivery at a datacenter requires special planning that includes a proper understanding of consumption and redundancy requirements to maintain the set level of uptime.
Cooling – Cooling can be a limiting factor in datacenter capacity. A cooling system that is designed and implemented poorly can become costly.
Security – The issue of security isn't just about securing data online. In building a reliable datacenter, architects must also consider physical security of the facility. A datacenter has to withstand everything from corporate espionage to terrorism to natural disasters.
Network Connectivity – The modern datacenter requires faster network connectivity, which means infrastructure must accommodate growth at the facility and in technology.
After factoring the top four factors of reliability, an architect must then look at how the datacenter is put together using structured cabling, racks, cabinets and cable management.
Time
No matter what growth demands a datacenter may be facing, they are required to always deliver fast deployment times. Datacenters, such as those managed by companies like Enseva, must have the capability to adapt quickly and support evolving technology. The best datacenter infrastructure keeps fast deployments in mind as they prepare for future moves, add-ons and required changes.
Time-saving infrastructure decisions may include using:
Modular racks and cabinets that assemble quickly and have adjustable rails.
Cable management that is easy to install, and change.
To stay ahead of current needs and future growth, a datacenter design must have preset plans that provide solutions to easily install, move and add on infrastructure, power and network connectivity growth as needed.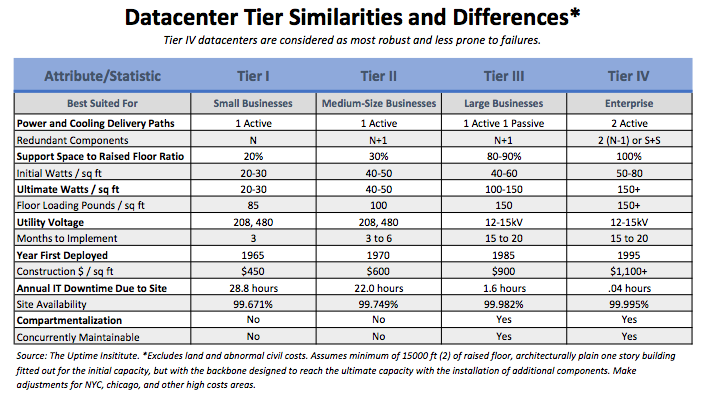 Space
When it comes to preparing for future growth, efficient datacenters don't build a lot of unused space that a company can grow into. This method proved to be inefficient in more ways than one. In fact, when datacenters are aiming to be as energy efficient as possible, paying to cool vacant space is a waste. Today's datacenters are designed to be flexible.
Keeping space in mind while designing a datacenter includes the following best practices:
Using racks as basic building blocks. This means setting up racks that are efficient in design and make effective use of space to accommodate growth.
Make sure the cable infrastructure has plenty of density and will provide room to grow and mitigate airflow.
Experience
Experience counts when choosing the datacenter that will house your data. A company like Enseva understands that design can affect everything from a company's cost, to uptime. Chris Sevey, CEO of Enseva, said in designing cost-effective, efficient datacenters, they must guarantee good performance, flexibility and the ability to keep up with technology that will meet the needs of the future.
Essentially, Sevey stressed that it comes down to experienced professionals designing a datacenter that will provide businesses the services they need when they need it.
Sustainability
When it comes to datacenters, sustainability can have two meanings. Sustainability can refer to lasting capabilities in infrastructure, and to the company's focus on the environment.
Achieving a sustainable datacenter design means a special focus on choice and flexibility in space design, while also reducing installation time and cutting down on material waste on site. This translates into datacenter solutions that use a comprehensive approach; power distribution, air flow control, and racks or cabinets with cable management, to ensure optimal energy efficiency and performance.
Conclusion
At the end of the day, a datacenter is not designed to just meet business needs of today. A datacenter is designed to meet future needs whether it be storing data in-house or using the cloud.
Enseva is here to answer any of your datacenter questions. Call for a consultation today.