Highly Scalable
Whether you're building a consumer site with 100GB or implementing a big-data application requiring hundreds of terabytes of storage, Enseva Hyper-V Cloud can scale to handle your needs.
Durability
Enseva Hyper-v Cloud takes advantage of active/active high-availability storage to safeguard your data against both service outages and data loss. Asynchronous replication to tertiary storage provides a third copy of your data to further protect against data loss. Geo-redundancy options create additional copies of your cloud server in other datacenter facilities to provide higher availability and disaster recovery options.
Cost Effective
Select the performance and resiliency profiles that you need for each application, then provision the resources you need today and scale as those needs change. Enseva only charges for disk capacity, meaning there are no per-transaction costs or read/write costs like some other clouds have. Enseva uses proprietary storage techniques coupled with 10Gigabit network infrastructure to deliver high performance and cost effective storage options to people just like you every day.
Attaching storage to your cloud server
Adding or growing storage to your cloud server is easy. Simply visit the configuration pane of your cloud server, click "Add Disk". After a new disk is has been added, expand the size of the disk to whatever you need. Mount and partition the storage as needed.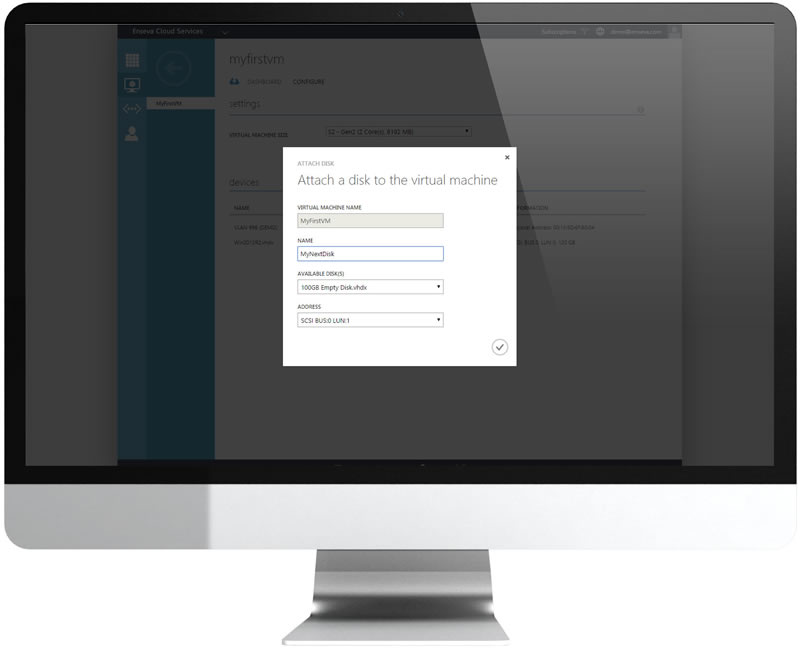 Performance and Resiliency Options
Standard Storage (SS): Storage arrays designed to deliver high volumes of inexpensive storage suitable for general purpose use.
Performance Storage (PS): Hybrid storage with a mix of standard disk, SSD and Memory designed to accelerate storage performance for more demanding applications.
Locally Redundant Storage (LRS): We synchronously store virtual machines in two locations on active/active availability storage and asynchronously replicate a third copy additional storage for high durability and data loss prevention.
Facility Redundant Storage (FRS): We synchronously store virtual machines in two location on active/active availability storage and asynchronously replication a copy to both onsite and offsite tertiary storage to provide high durability, data loss prevention and disaster recovery.
| Redundancy Type | LRS | FRS |
| --- | --- | --- |
| Replicas | 3 Replicas within Datacenter | 4 replicas, three in primary facility, one in secondary |
| Availability SLA | 99.5% | 99.5% |
| Return to operation | 3hr/TB | 1hr/TB |
Storage Plans
Storage plans are integrated or attached to your resource plans to provide primary or supplemental storage to your environment. Three performance tiers are available.
Name
Disk Capacity
Performance
Performance Storage
120GB – 10TB
20,000+ IOPS/VM Read
5,000+ IOPS/VM Write
General Purpose Storage
120GB – 30TB
2,000+ IOPS/VM
1,000+ IOPS/VM Write
Archive Storage
120GB – 30TB
500+ IOPS/VM
500+ IOPS/VM Write