RELIABLE. By Design.
Enseva provides high availability configuration options that can minimize the possibility of mission critical system becoming unavailable, thereby minimizing the risk of our customers businesses. Utilizing a proprietary patent pending electrical design, Enseva premium datacenter facilities extend 100% uptime Service Level Agreements (SLA) to all qualifying customers.
Quad-Redundant Utilities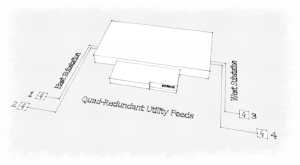 Enseva premium datacenters utilize four utility feeds. Two utility transformers are feed from one substation while the other two utility transformers are feed from a diverse substation.
Redundant Onsite Generation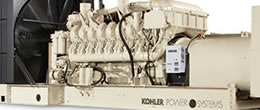 Each phase of the Enseva Hiawatha facility has redundant backup generators with 48hrs of onsite fuel storage. Additional fuel gets delivered every 12hrs under running conditions.
FLEXIBLE. By Design.
ENSEVA offers solutions to meet a wide array of system and application availability requirements. Customers may combine several different high availability solution elements to build diverse levels of assurance for various systems and applications.
Choose Your Redundancy
Customers have the ability to choose from a variety of flexible redundancy scenarios including the most popular N+1 and 2(N+1) options.
Choose Your Capacity
Enseva can quickly deploy circuits ranging from 120v 20A to 208v 60A 3-Phase. Choose from over 80 different cabinet PDU's in varying mounting styles. Enseva cabinet scale from 10kW all the way up to 30kW.
POWERFUL. By Design.
Designed with the future in mind, Enseva premium datacenters utilize scalable, high density infrastructure enabling you to increase power requirements and performance as your business grows, without increasing your footprint or moving equipment.
Real Time Monitoring
All cabinet electrical circuits (branch circuits) are monitored throughout the datacenter. Real-time and statistical information is made available to customers my means of a password protected web portal.
Rapid Deployment
Utilizing a non-arc flashing breaker system, Enseva can quickly deploy new electrical circuits in minutes as opposed to a more traditional approach which requires an electrician and days or even weeks.